In Session identity
In Session was a series of eight talks and webinars held by the Royal College of Art's Research and Innovation department in summer 2020. Because of the Covid-19 pandemic, all of the college's short courses and summer schools were cancelled. The RCA moved quickly to fill the space with In Session, bringing the college's experts together with leading figures from throughout the design world over Zoom.
The brand had to be designed before we knew the full scope of the talks. To keep things flexible and simple, I built the identity around a simple wordmark in Knockout, one of the RCA's brand typefaces, glowing in an evocation of 'On Air' signs in recording studios. Because the talks would be promoted on the RCA's social feeds and website, where a large number of the college's sub-brands compete for attention, I decided that there should just be one accent colour to make In Session stand out as a series.
Part of my task was to retouch the supplied photos of the speakers and bring them together into an In Session style. I arrived at the style partly out of necessity: the photos sent in by the speakers varied wildly in their saturation and contrast, and the monochrome approach was the easiest way to achieve consistency. To my delight, though, as the series went on, more and more of the speakers began to supply their own high-contrast black and white photos – a sure sign that the branding had sunk in.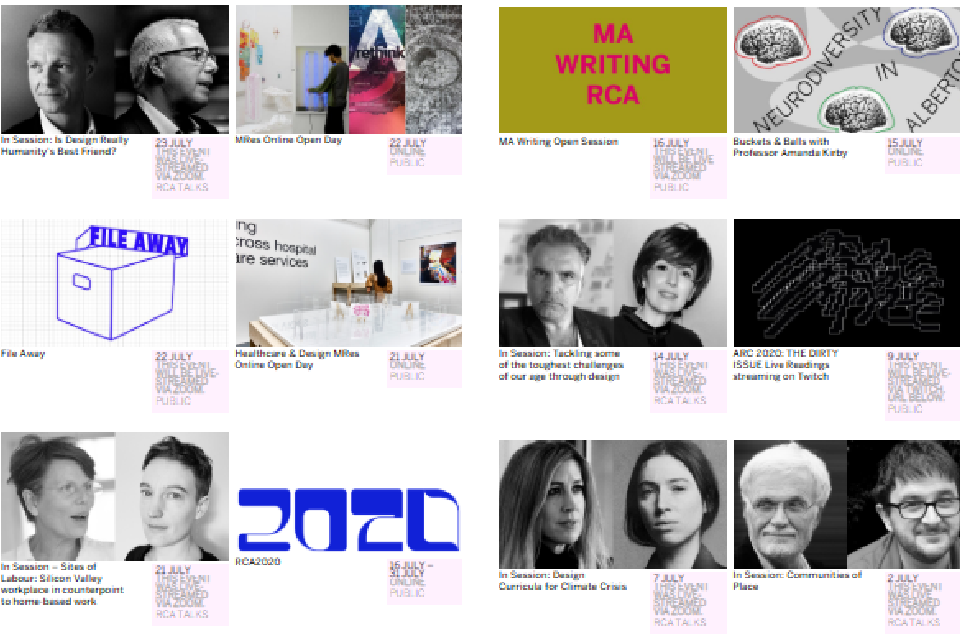 In Session was a great success. 2,500 people from 60 countries registered for the talks, and their pages on the RCA website were eight of the most visited individual landing pages in June and July with a total of 12,000 page views.
To promote each talk, I produced a 15-second video and a range of static graphics for a variety of social channels, including Twitter, Instagram, LinkedIn, email, and the RCA's own website. Below is the full set of assets for the final talk in the series.